We interviewed
102 CX experts

from high-performing brands.
They shared key

customer experience challenges

& ways to overcome them.
Get the insights in this
free
CX Report!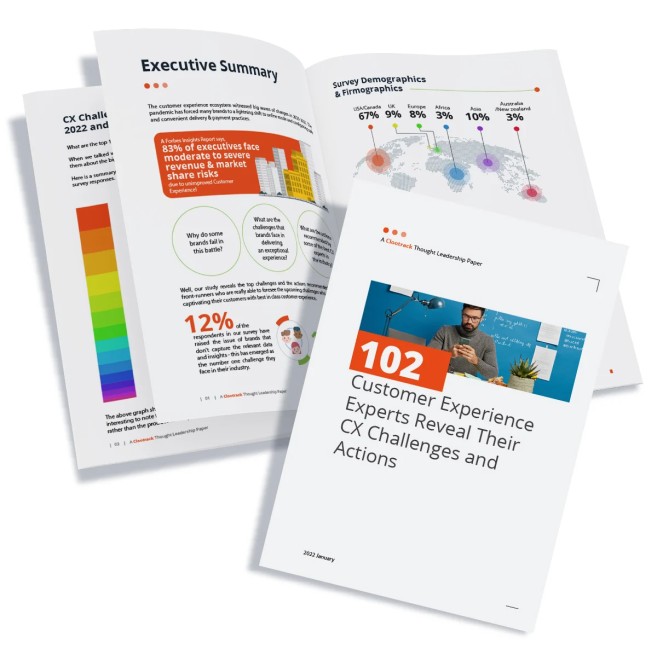 Brands to which the CX experts are affiliated with
A few of the global CX experts featured in our report
Shep Hyken
CAO (Chief Amazement Officer), Shepard Presentations, LLC
Julie Ryan
Director and Global Customer Experience, Johnson & Johnson
Rick Mans
Head of Customer Experience EMEA-LATAM, Roche
Jorge Calvachi
Director of Insights, La-Z-Boy Incorporated
"The biggest challenge still today when it comes to the CX is executive commitment and alignment. There are still too many executives who live the old management mantra."
"For almost every company in business today, the first mission in improving their customer experience should be to identify and eliminate friction."
"People try to prioritize every touchpoint. And try to do everything to make a great customer experience. That's the biggest mistake you can make."
"The challenge for many organizations has been digitally transforming their experience and, for brands that are not digitally native, integrating this transformation with in-store or other traditional experiences."
I think the bigger problem lies with brands not having a clear and differentiated vision of the experience that they want to deliver and how they support and enable their business objectives.
Here is exactly what you will learn from the CX Report
Top 15 CX Challenges According To Experts

16 Expert Recommendations To Improve CX

Lack Of Leadership Commitment Towards CX Initiatives

Different Industries Encounter Different CX Challenges

Actionable Insights & Real-Time Data That Elevates CX

Unique Yet Important Challenges
Download our
free
CX Report!