CX See Why Show!
Understand the "Why" of Customer Experience with Dan Gingiss.
In the CX See Why Show, Dan Gingiss -The Experience Maker™- and renowned CX keynote speaker, invites CX experts from various industries to discuss about understanding the "Why" of customer experience.
Each episode brings an unscripted discussion on unique topics like CX challenges, data and customer insights, identifying rising customer expectations, the value of customer journey, and much more. Get a wealth of information from CX leaders and apply that to your business to improve your customer experience.
Watch now to understand the "Why" of customer experience.
Episode 03

|

Owning The End-To-End Customer Experience in Chocolate Industry

- Understand the "Why" of Customer Experience in the Chocolate Industry

Customer experience is essentially shaped by several factors, some within a brand's control and some which are not. CX can entirely change the game for everyone, overturning businesses upside down within no time. To avoid interruption, companies need to learn how to manage end-to-end experiences and, as a result, reset business models and business processes.

In this episode, Dan Gingiss along with the guests, Sarah Tomasaitis, Global Portfolio Insights - Gum and Mints at Mars, and John Kapos, CEO of Perfection Chocolates discuss the most fascinating insights on consumer behavior post covid and the various aspects that could be out of control when it comes to delivering a great CX.

Top takeaways:
Top 3 category drivers of the chocolate industry
3 aspects that customers are most happy about and why
Touchpoints that shape a brand experience
Episode 02

|

Identify Emerging Signals in the Air Purifiers Industry

- Understand the "Why" of Customer Experience in the air purifiers industry

In this episode, we will explore customer expectations, which are frequently hidden in customer conversations, and provide businesses with enough signals that are strategic to demand top-management attention.

We are delighted to introduce our guest of the show - Olivia Raya, the Customer Service Team Lead & Trainer at Rabbit Air. Dan and Olivia will share their valuable experiences and help understand the invisible 'whys' of customer experience.

Top takeaways:
Identify valuable "signals" often hidden amid the noise.
Spot the dip in positivity due to changing customer expectations.
Customer satisfaction across price ranges.


Read More >>
Episode 01

| CX Analytics in Beauty & Cosmetics Industry

- Understand the "Why" of Customer Experience in Beauty & Cosmetics.

In this episode, we'll be discussing important elements of exceptional customer experience in the beauty industry.

Meet our beauty expert Loren Taylor West, Founder and CEO at CPG Beauty and Beyond. She shares her experience and best practices from the Beauty & Cosmetics industry. Dan and Loren discuss the importance of using consumer insights to gain a deep understanding of your customers.

Top takeaways:
Top 5 category drivers in the makeup industry
Deep dive into the Top 2 categories
Learn why emerging brands top the brand equity chart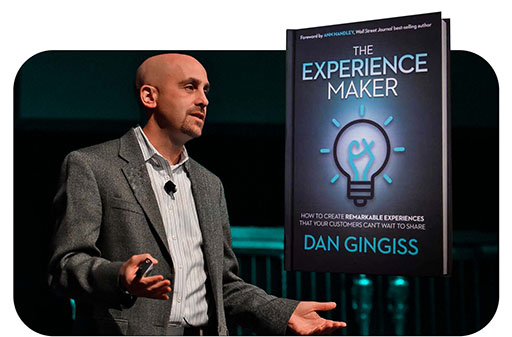 About
Dan Gingiss
Dan Gingiss is a customer experience speaker and coach with a 20-year corporate background at companies like McDonald's, Discover, and Humana. He helps businesses create experiences that customers can't wait to share with friends and social media followers. He believes that a remarkable customer experience is the single best sales and marketing strategy.
About
Clootrack
Clootrack is a real-time customer experience analytics platform that helps brands reduce churn significantly.
Clootrack helps brands understand granular qualitative reasons "why" customer experience drops. This reduces response time to CX trends by 88%.
Clootrack is the favorite among brands because of:
Ability to aggregate data seamlessly across first and third-party touchpoints.
Ability to analyze and understand actionable granular customer priorities at 90%+ accuracy.
Superfast turnaround times!
Real-Time Customer Experience Analytics Platform!