ROI of Customer Experience
20 Global CX Experts Reveal How They Proved

the

ROI of CX Programs.
Brilliant real-life examples of how CX Professionals have succeeded in linking investments to business outcomes.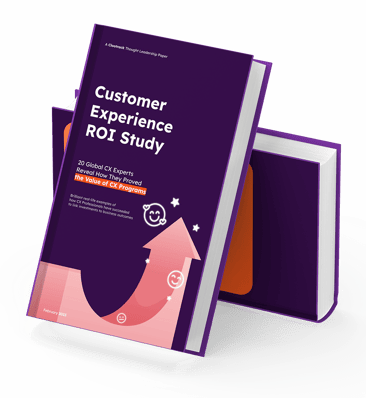 Download the

CX ROI Report
Powerful insights to help you measure the ROI of CX investments


CX leaders face difficulty in convincing C-Suite on investing in customer-centricity due to lack of quantifiable ROI. This study explores 20 successful cases where CX leaders identified a challenge, implemented a solution and measured the ROI of their investment.

Access the study to see how these leaders proved CX initiatives' ROI.
Some of the Participating Brands
Global CX leaders Featured in our CX ROI Report
Jared E. Fink
Group Director, Experience at Siegel+Gale
Ivette Godinez
Head of Category Management & Shopper insights & e-Catman, at Grupo AlEn
Dave Seaton
Founder & Principal Consultant at Seaton CX
Susanna Baque
Senior Director of Global Customer Experience at SCIEX
Sean Crichton-Browne
Head of Global Partnerships & Customer Engagement, MarketCulture Strategies
Achieved a growth of $11.1Million, Efficiency (Cost Savings) of $7.9Million, and Retention of $6.0Million
20% Increase In Customer Engagement After Optimizing Digital Experience Across Different Devices
Lift Retail Sales By 30% And 58% Increase In Higher Ticket Items After Recreating A Holistic Customer Experience
Melissa initiated a data-first approach combined with design thinking techniques focusing on the stakeholder experience that allows all stakeholders to have a consistent experience across the organization. Here, a comprehensive data strategy helps to prioritize value-added activities and projects with better results.
Here is exactly what you will learn from the CX ROI Report
A summary of the Key takeaways:
Pitch the CX Program to the right stakeholders
Build your own CX ROI model
Ensure the Right VoC is Captured
If You Can't Measure It, You Can't Improve It
Focus on Long-term CX Outcomes
Right Technology is Inevitable
Remember, It's a Continuous Improvement Journey
Finally... Proving the ROI of CX Increases Investment in CX
Powerful insights

to help you choose the right CX improvement investments
Download our Free CX ROI Report
Join Clootrack

CX Expert Council
Clootrack's Global CX ROI Study 2023 is the latest report of the wide-ranging Clootrack study series that helps the CX community to understand the challenges behind customer experience.
If you are an expert CX practitioner and want to share your thought leadership with the wider CX community, join our community of experts.
Keep up-to-date on CX trends with our weekly newsletter,
The WHY of CX
Visit For More Insights and Discussions on CX